SICRES : Siriraj Institute of Clinical Research
Your Success Is Our Success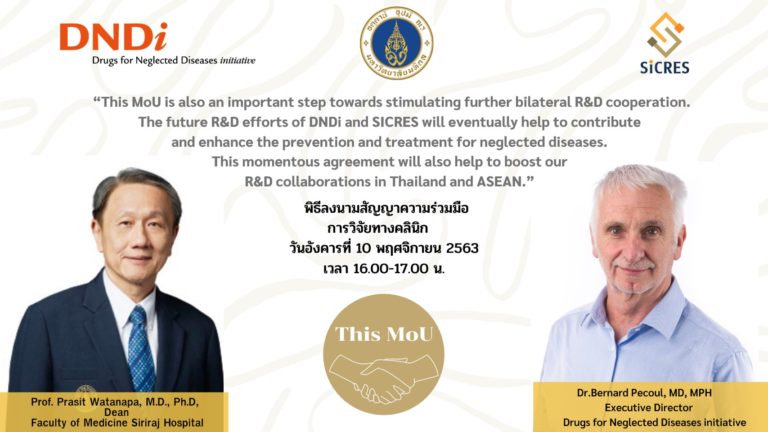 On 10th November 2020, SICRES and DNDi signed a memorandum of understanding for collaboration on conducting clinical research. Focusing on medical research and working together to further develop a leading hub of excellence in medical research and development in Southeast Asia.
Siriraj Institute of Clinical Research (SICRES) is an academic clinical research institute, operating under the Faculty of Medicine Siriraj Hospital, Mahidol University. 
SICRES | ˈsīkres | , ไซ-เครส
"Your Success Is Our Success"
Professor Kulkanya Chokephaibulkit
Director
Director
Kulkanya Chokephaibulkit is Professor of Pediatric Infectious Diseases and Director of the Siriraj Institute of Clinical Research.
Vice Director, Shared Services
Somruedee Chatsiricharoenkul is Associate Professor of Pharmacology and Vice Director of the Siriraj Institute of Clinical Research.
Vice Director, Site Management Organization
Pongsakorn Tantilipikorn is Associate Professor in Rhinology & Allergy, and Chair of the Center of Research Excellence in Allergy & Immunology, Faculty of Medicine Siriraj Hospital.
Vice Director, Clinical Research Support
Suvimol Niyomnaitham is Assistant Professor of Pharmacology and Vice Director of the Siriraj Institute of Clinical Research.
SICRES conducts cost-effective clinical research at international standards and offers full-service clinical trial design and management. We offer a suite of capacities and services, including
Experienced investigators and highly-trained clinical research staffs
Precision clinical trial design and management (Phase I to IV)
Bioequivalence studies, Feasibility surveys, Safety and Efficacy evaluations
Integrated database development and biostatistical analysis
Training and development of research staffs
High impact medical publications and presentations
Patient safety and adverse event monitoring
A national and international research network
Grant application support for investigators
SICRES offers modern facilities that meet or surpass international standards. Our 30-bed research unit can accommodate overnight studies and has a synchronized clock system to assure protocol compliance. Each bed has a nurse call system, private restroom and 24-hour CCTV monitoring.
We have a comfortable patient waiting area, five examination rooms and a treatment room. SICRES also offers a secure conference room and private monitoring systems for investigators, sponsors and auditors. We maintain a secure filing and data archiving system to protect your data and assure patient confidentiality. We also operate separate fax systems for blinded and unblinded study staff. SICRES offers state of the art laboratory facilities including two 2-8°C, four sub 25°C refrigerators, one -20°C and three -80°C freezers.
All storage systems are maintained in 24-hour air-conditioned rooms with electronic remote notification of temperature variance. We have four refrigerated centrifuges, multiple biosafety cabinets and an emergency trolley equipped with a defibrillator and a 12-lead EKG.
Clinical Research Services
SICRES offers a full spectrum of clinical research services to bring about new and innovative solution and findings. Our services cover the entire clinical research and development that can be tailored to national and international trials. 
Applied Thai Traditional Medicine
Allergy and Clinical Immunology
Endocrinology and Metabolism
Infectious disease and tropical medicine
Respiratory Disease and Tuberculosis