SICRES signs MoU to strengthen R&D with DNDi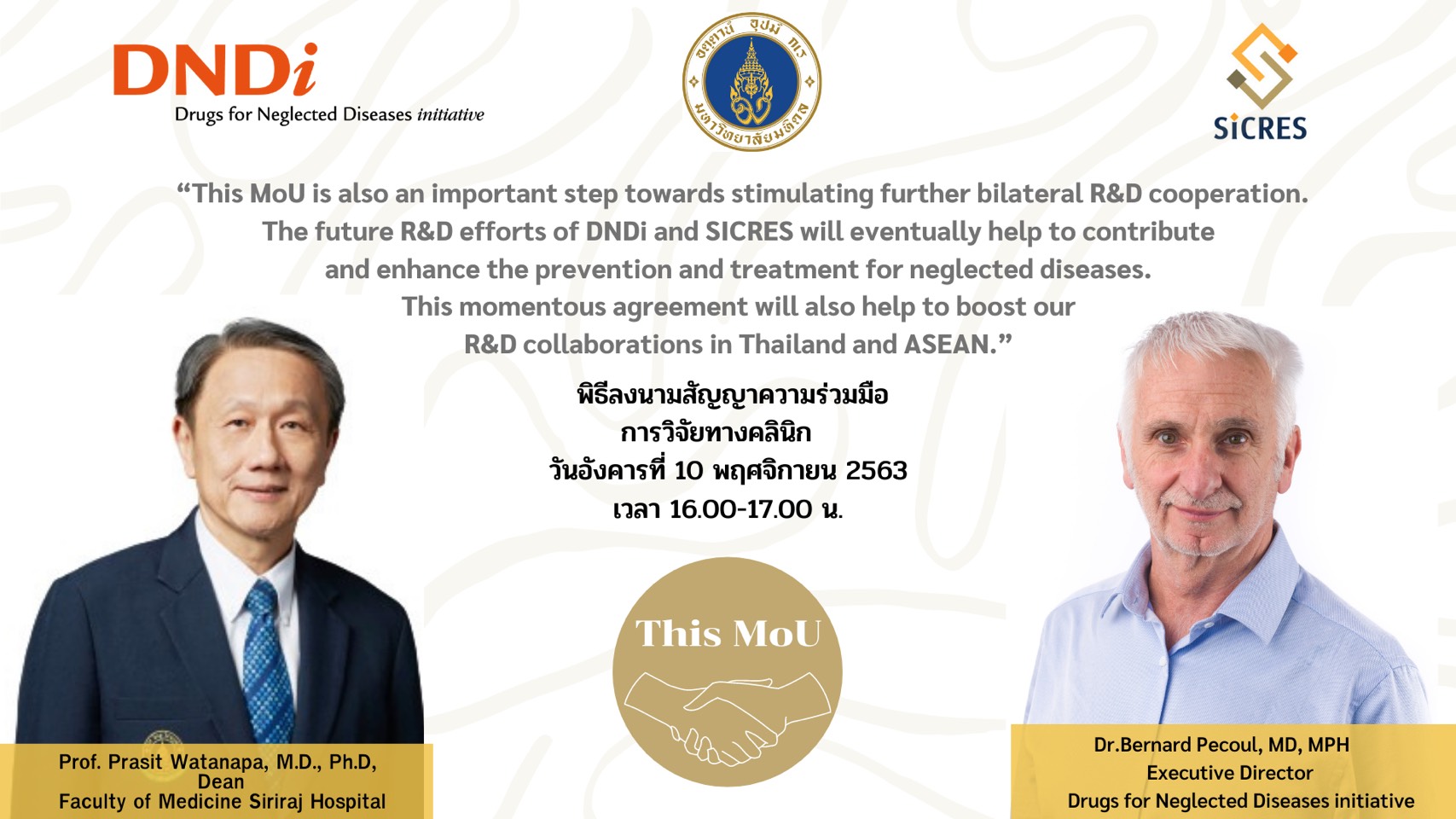 Siriraj Institute of Clinical Research and Drugs for Neglected Diseases initiative to collaborate on initiatives to address the gaps in R&D and access to medicines
BANGKOK, THAILAND – 10th November 2020
Thailand's Siriraj Institute of Clinical Research (SICRES) and the non-profit research and development (R&D) organization Drugs for Neglected Diseases initiative (DNDi) announced today the signing of a memorandum of understanding (MoU) for collaboration on conducting clinical research.
The MoU is focused on two distinct areas of R&D. The first is to collaborate on medical research in Thailand, particularly on the implementation and management of clinical trials for new treatments; the second is to work together to encourage and develop Thailand's potential as a leading hub of excellence in medical R&D in South-East Asia.
"This alliance between SICRES and DNDi will enhance our medical R&D potential in neglected diseases and lead to improvements in patient treatment. As a well-established academic institution of the country, Siriraj is often described as the 'Hospital of the Land'.  SICRES by Siriraj aims to facilitate and conduct clinical research that will have a positive impact for human health. Collectively, we share similar goals that lead to improving the quality of life for patients. Our partnership creates an epic moment that will benefit the work, treatment and prevention of neglected diseases in the region and beyond."  said Prof. Prasit Watanapa, M.D., Ph.D., Dean, Faculty of Medicine Siriraj Hospital.
This collaboration stems from the organizations' shared commitment to improving the health and lives of Thai people affected by neglected diseases, and ensuring they have equitable access to affordable treatments.
"I believe this collaborative partnership lays down the roots to build more R&D knowledge transfer and expand the capacity of expertise in Thailand. DNDi has a strong footprint in Thailand and South-East Asia and I am certain this MoU will contribute to support our work and fortify our partnerships." said Dr. Bernard Pécoul, M.D., M.P.H., Executive Director, DNDi.
The MoU spans the following R&D areas
To promote and foster collaborative medical R&D environment in Thailand with a focus on patients' needs.
To explore opportunities for the development of new treatments, for example for dengue, that have the potential to change patient management
To work together to support the Global Antibiotic Research and Development Partnership (GARDP) R&D activities on antimicrobial resistance in South-East Asia
To encourage and develop collaboration with other South-East Asia R&D actors (such as Clinical Research Malaysia (CRM) in Malaysia)
To address the needs of neglected patients in Thailand through R&D and advocacy activities so that Thailand has access to safe, effective, and affordable treatments.
The MoU is also an important step towards stimulating further bilateral R&D cooperation. The future R&D efforts of DNDi and SICRES will strive to contribute to and enhance Thailand's public health response for neglected patients and diseases.
About SICRES
Siriraj Institute of clinical Research (SICRES) is a leading comprehensive clinical research center in Thailand. It is a new set-up institution of Faculty of Medicine Siriraj Hospital, the largest medical school and public hospital in Thailand. SICRES offers various services that are related to clinical researches as well as highly trained research scientists and state-of-the-art facilities to conduct effective clinical trials, bioequivalence studies. Safety and efficacy evaluation among those services are also handled by the specialist from SICRES. https://sicres.org/
About DNDi
The Drugs for Neglected Diseases initiative (DNDi) is a patient-needs driven, not-for-profit R&D organization working to deliver new treatments for neglected patients through innovation, in particular for sleeping sickness, Chagas disease, leishmaniasis, filaria, mycetoma, paediatric HIV/AIDS, hepatitis C virus (HCV), and covid-19. https://dndi.org/
About GARDP
The Global Antibiotic Research and Development Partnership (GARDP) is a not-for-profit organization developing new treatments for drug-resistant infections that pose the greatest threat to health. GARDP was created by the World Health Organization (WHO) and the Drugs for Neglected Diseases initiative (DNDi) in 2016 to ensure that everyone who needs antibiotics receives effective and affordable treatment, no matter where they live. www.gardp.org
Copyright © 2020 SICRES. All rights reserved.